EzStamp
SCOTT™ licensed Stamp Collecting Software to Inventory your stamp collection. Includes SCOTT#'s, current market values and beautiful COLOR images! The perfect tool you need to organize and value your stamp collection. Get your stamp collection in order today! Entire WORLD Now Available!
Features:
Comprehensive, searchable database of 736 countries with 827,500 worldwide stamps. List of Available Countries
ENTIRE World database available. Topical collectors dream.
Quickly & easily identify your stamps. User-friendly & efficient data entry.
Comes with professional, concise & useful reports that are easy to read
You will receive the best customer service in the business. Unsurpassed technical support whenever you need it.
Instant access to your entire collection. Know what you own & it's value
Stunning color images pre-supplied for all countries we provide!
Officially licensed to use the industry standard SCOTT™ numbering system since 1992.
What are you waiting for? Get control of your collection. Order today.
See for Yourself why EzStamp is truly the #1 World Stamp Inventory Software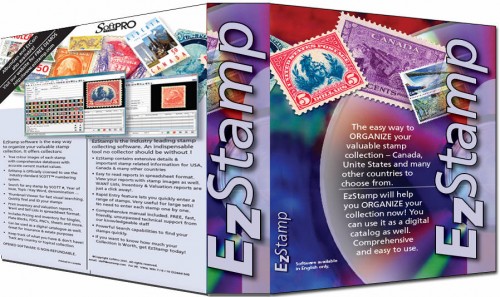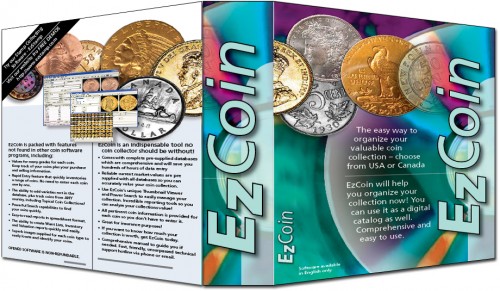 EzCoin
The EASY way to track & value your coins. Innovative Coin Collecting Software to Inventory your coins ! Need to know what your coins are worth? Use EzCoin to accurately organize, value, manage & track your coin collection. EzCoin is packed with features not found in any other coin collecting software.
Features:
Comprehensive, searchable database of US & Canadian coins
User-friendly & efficient interface.
Quality customer service.
Need an inventory for Insurance purposes?
Is your coin collection in Disarray ?
Do you know what you have or don't have?
Do you know the value of your collection?
Tired of wasting time trying to find your coins?
Let EzCoin help you Organize your collection. You can use it as a digital catalog as well!
EzImage
EzImage is a full fledged Image Editor/Processor with some very powerful features built in. EzImage can help you organize & scan your stamp & coin images now! EzImage will save you a lot of time. With Auto-separate, Auto-rotate, Auto-crop, it will reduce your image processing time significantly.
Features:
With EzImage, you can scan many stamps at once & then with one click, automatically separate them into individual images. (Pro version only)
Crop, color correct, retouch, add special effects, use custom color palettes and use the dozens of tools we provide to make your images look their best.
Give all your image processing projects that professional look & feel .
EzImage supports all TWAIN compliant scanners.
File conversion utilities (supports almost all image file formats)
Specifically designed for stamps & coins to save you incredible amounts of TIME processing images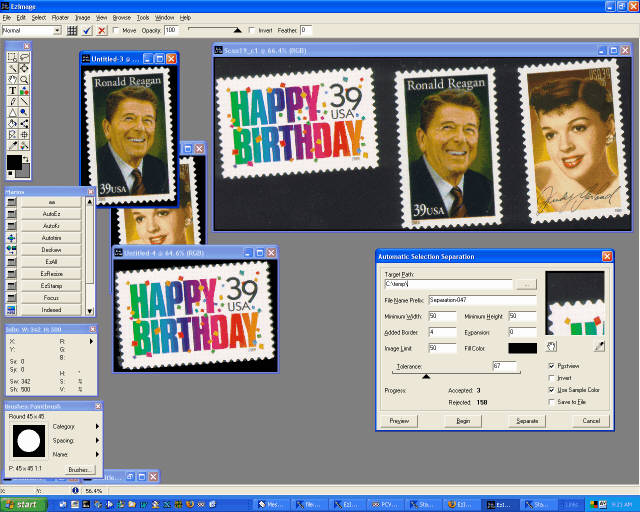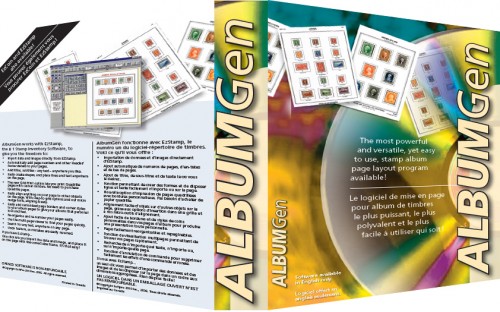 AlbumGen
AlbumGen The most intuitive and easy to use Stamp Album Page Layout program available. Great for exhibits & Topical Albums!
Features:
Intuitive & easy to use Stamp Album Page & Exhibit Layout program

Quickly Design your own custom Album & Exhibit Pages

Import Data & Images Directly from EzStamp t

o save time.

Easily align anything on your page to other objects on the page. No guessing
Add custom borders & corner styles to your Album Pages to give pages that personal look & feel
Design pages for countries where sometimes pre-made pages are not even available

Add text, shapes, images quickly & effortlessly. Add Titles, Headers, Footers, Subtitles, Page #'s
View more info

EzGrader
EzGrader™ is a powerful new TOOL available to stamp collectors which allows you to easily determine the centering of your stamps (ie Grades such as F, VF , XF) & measure the perforations of your stamps. See for yourself . An invaluable tool for any stamp collector. Give it a try! Stamp Grading Software
Features:
EzGrader is powerful & easy to use. By simply scanning in your stamp, EzGrader will be able to determine the centering of your stamp and assign a grade to it such as F, VF, XF .. AND it can also measure the perforations of your stamp!
Get a competitive edge when bidding for stamps by knowing the true grade of the stamp!
EzGrader will help you analyse your stamps in many ways. Find those stamps with huge margins.
EzGrader is such a useful tool, it can pay for itself the first time you use it !  Click Here to See How!
EzGrader is used by the Philatelic Foundation as well as many Stamp Experts & Philatelic organizations.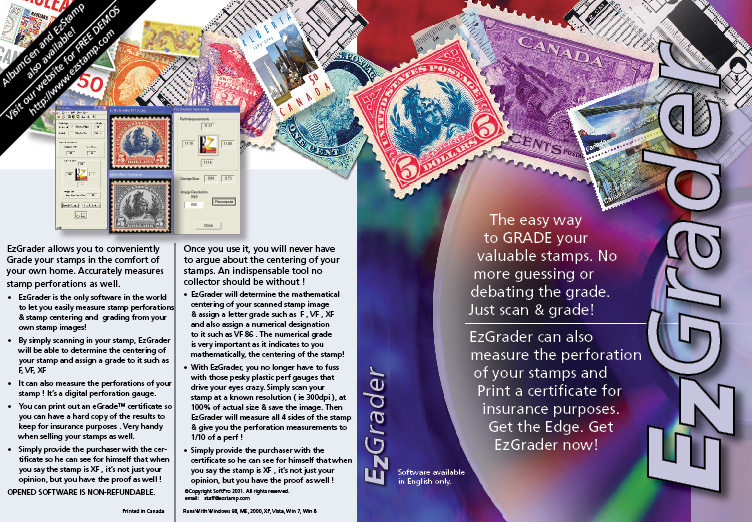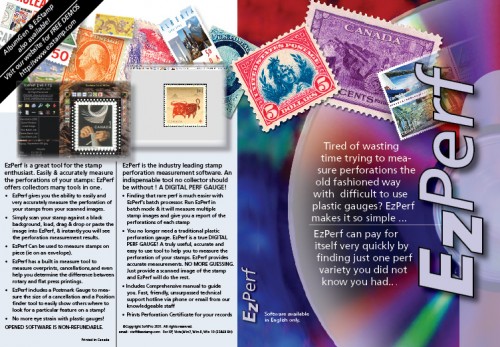 EzPerf
EzPerf – The Premiere Stamp Perforation Measurement Software for your stamps! EzPerf will allow you to easily and accurately measure the perforations of your scanned stamp images.
Features:
EzPerf has a built in measure tool to measure overprints, cancellations,and even help you determine the difference between rotary and flat press printings.
EzPerf also includes a Postmark Gauge to measure the size of a cancellation and Position finder tool to easily show others where to look for a particular feature on a stamp!
Finding that rare perf is made much easier with EzPerf's batch option to process multiple images in one shot.
Ezperf can also measure stamps on piece (ie on an envelope). Next to impossible with traditional methods.
Comprehensive manual to guide you if needed. Fast, friendly, unsurpassed technical support via phone, email or remote support.
Tired of wasting time trying to measure perforations the old fashioned way with difficult to use plastic gauges? Give EzPerf a try & you will see how easy it is to use.
Let EzPerf help you determine the perforations of your stamps. There is no DIGITAL perforation gauge like it.
View more info
SRS (Stamp Recognition)
Stamp Recognition Software Our Stamp Recognition Software will Quickly Identify your stamps. Simply scan in your stamp and SRS will analyse and identify the stamp for you so you can add it to your inventory. (*Requires EzStamp) Whether you know nothing about stamps or are a seasoned collector, SRS is an invaluable tool. If you […]
Features:
Quickly & Easily identify your stamps by simply taking a picture of it!
No need to spend time flipping through catalogs & searching the internet. SRS can find your stamps in seconds.
Just scan your stamp (or use your phone) & our intelligent software will analyse & identify your stamp & the automatically inventory it in EzStamp
You can even do batches of stamps. Scan multiple stamps & let SRS identify each one for you to inventory in EzStamp.
SRS is a huge time saver. Whether you are a seasoned philatelist or a beginner, our Stamp Recognition Software will make identifying most stamps simple & fast
Easy as 1-2-3: Load your image, Start the Search & add it to the EzStamp Inventory when found.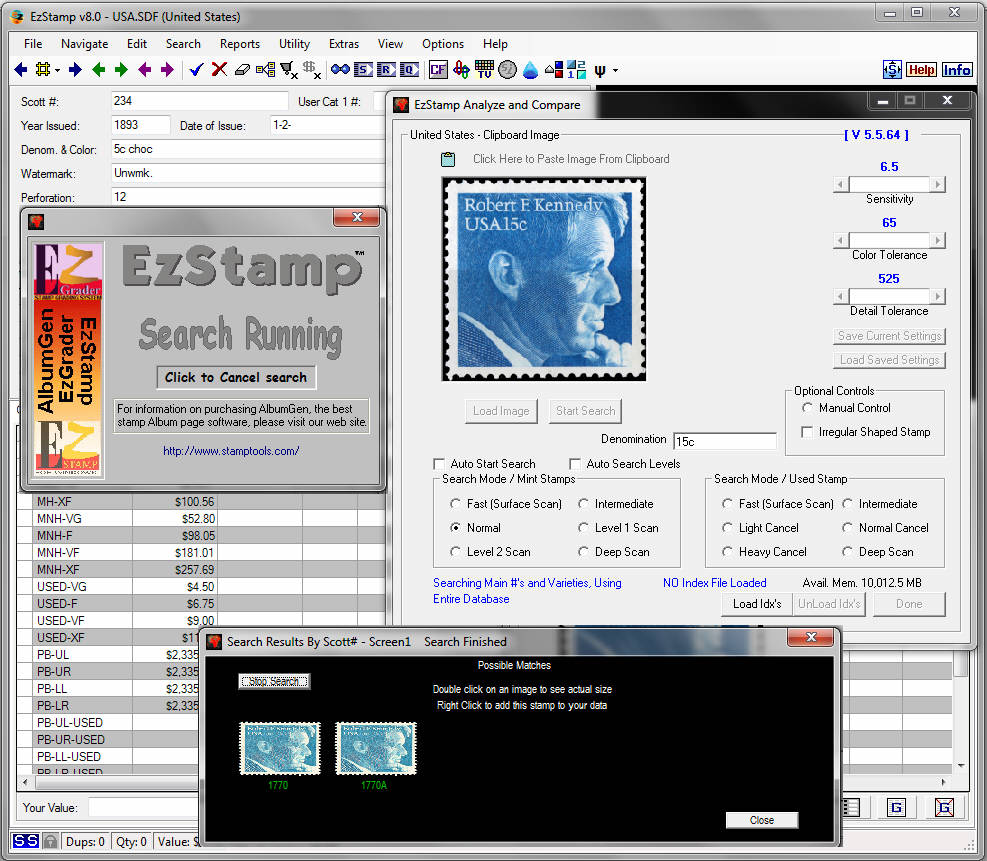 Testimonials What are people saying about our software?
This is the absolute best program I have ever used!


B.A., Longueuil, QC
I bought this program (EzImage) few years ago. I use it a lot. Constantly. If I have a problem or questions, (how to do something), I've always received fast and clear answers. I am very satisfied with the program and the service as well.  thank yo

Gilles Gagnon, Montreal, QC
I have been using Stamp Inventory software since the very first apps became available in the 80's. EzStamp is BY FAR the best one yet.

John I., USA
I really enjoy using your program [Ezstamp] and find it a wonderful means to summarize and record the value of my collection.

Bob Jones, CA, USA
First, i really want to thank you for EZStamp. I'm truly enjoying it and have entered over 1000 stamps and will add about 100 a day or so.
I started entering some PNB's after watching your video. Great addition to the program.

Charles L., USA