How to Differentiate Between Photogravure & Lithographed Stamps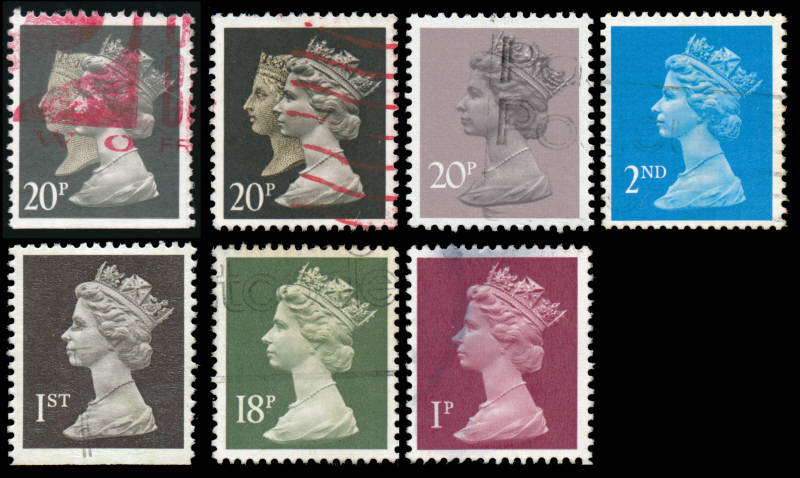 A common question we receive from many EzStamp customers is "What is the difference between Litho & Photo? What do they mean?". Above is an example of 7 Machin Head Stamps from Great Britain. These Machin Heads have been issued by Great Britain since 1968. There are thousands of varieties of these stamps, named after Arnold Machin who designed the effigy of the Queen's head used on all stamps of this series.
These two terms, Photo & Litho refer to the printing method used to print the stamps. Below are images that will show you how to quickly differentiate between Photogravure & Lithographed Stamps.
Lets look at the details to see the difference & how to easily distinguish them. As an aside, one of the great pleasures I find in stamp collecting is the ability to differentiate between similar looking stamps. The differences can be very minor, but highly rewarding when discovered.
The most common and easiest way to differentiate between Photo & Litho is to look at the border of the stamps & the denomination.
Lithographed stamps have a very sharp and clean edge especially on any vertical or horizontal portion of the design. In the examples below, if you look at the denomination you will see a clean, crisp edge to the numerals, whereas in the Photogravure stamps, you will see speckled or /mottled edges. In the photogravure printing process, a series of dots are used to form the image (hence the speckled or /mottled look) while in Lithography a plate is used to print the stamps. Detailed explanations of the Lithograph & photogravure printing processes are available online
https://en.wikipedia.org/wiki/Lithography        https://en.wikipedia.org/wiki/Photogravure
To make things easier in identifying these stamps, we recommend using a magnifier of at least 16x magnification, or scanning your stamp at 1200 dpi or higher.